Buildings age and eventually need to be renovated; that's how Jerome Karam and his team at JMK5 Holdings work. Jerome Karam began his career as a lawyer and transitioned to real estate. Instead of building new buildings, they primarily focus on buying old buildings and renovating them to become something new.
That's precisely what the JMK5 Holdings team did with the Mainland City Mall in Texas City, Texas. The mall had been shut down for many years, and Jerome saw its potential to become something more significant.
So construction and renovation began, and now the old Mainland City Mall has been transformed into an entertainment plaza called Mainland City Centre where residents can go to movies, find great restaurants, and other forms of entertainment and shopping.
This is just one of the examples of Jerome Karam and his team transforming old buildings into something new. Let's dive into the importance of building restoration vs. renovation and what it can bring to a community.
What is Building Restoration?
Restoration, in its simplest form, is the action of returning something to its original form, place, or condition. Many restoration projects take place on older, historical buildings to try and maintain and renew what once was.
Restorations return a building to its original style without changing its structure but still focus on bringing the building up to code and safety regulations.
If something needs to be added, fixed, or replaced, this will be done in a way that replicates the authentic style of when the building was built instead of replacing it with something modern that doesn't fit.
Jerome Karam and his team take pride in restoring old buildings. Although most of their projects focus on renovation instead of restoration, their team still knows how to get things done right.
It takes a lot of work and planning to ensure everything is accurate, safe, and authentic to its original self.
What is Building Renovation?
Jerome Karam and his team focus many of their efforts on renovating spaces. The JMK5 Holdings team has renovated many commercial and residential buildings.
The Mainland City Centre is just one example that we talked about earlier. They also have renovated grocery stores, apartments, condominium buildings, and shopping centers.
Renovation and restoration go hand in hand; when you are restoring an old building and want to add more modern elements, you are building onto it with renovations.
Renovations primarily focus on repairing and replacing the structure and other elements. It makes sense for Jerome and his team to renovate commercial spaces instead of restoring them.
No one wants an old grocery store to be restored to its former glory when that won't be suitable for use; instead, renovating is the right option.
Restoration Vs. Renovation: Key Differences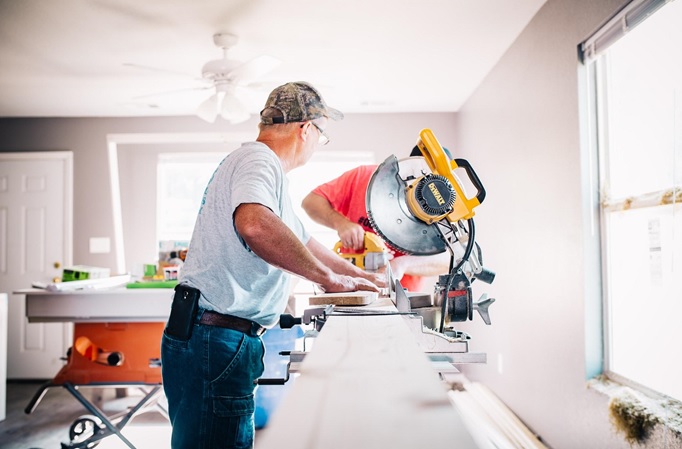 As mentioned above, restoration and renovation are entirely different projects. Jerome Karam and his team dominate the renovation space in Galveston County, Texas, where he has bought and redeveloped over one million square feet in the last five years.
JMK5 Holdings is only getting started with redevelopment projects as they have many plans to expand the business and continue with real estate projects.
If you want to get started in real estate redevelopment or restoration, here are a few key differences to know about the two.
1. Renovation Improves A Space Without Changing the Layout
When renovating a commercial property, the space remains unchanged. However, there are updates and repairs made to modernize the space and make it more appealing to today's customers.
With a renovation, the original design is not dramatically altered; instead, it is tweaked to meet specific standards and give the space a facelift.
2. Renovation is More DIY-Friendly
Commercial spaces like the projects Jerome Karam and his team take on are not the type you can do yourself. However, renovations to your own house are DIY material.
Renovations in your home could be painting the walls a new color, replacing tiles or flooring, or replacing old windows or parts. Anything cosmetic can easily be renovated by yourself.
But when you start configuring different plans to move around plumbing or electrical, you will want to call an expert to help.
3. Restoration Helps To Maintain The Unique, Original Design and Heritage of the Building
Renovation is giving a space a facelift, but restoration is a whole project that could take anywhere from a few months to a few years to complete.
As buildings age, they suffer a lot of wear and tear. That can be anything from discoloration, concrete deterioration, foundation damage, etc. Even with regular maintenance, an old, historic building will eventually need restoration.
Many historical buildings have a deep heritage and significance in many towns and cities, so bringing the old buildings back to life while still focusing on the original design is essential.
Jerome Karam and JMK5 Holdings
Jerome Karam and his team have worked on many renovation projects throughout Galveston County. They know how to renovate spaces to bring them back to life and give them a needed facelift.
They have about 12  projects now in development, including estates, old hospitals, hotels, and so much more. Jerome and his team are renovating the TEX, Texas Entertainment Xperience located in the Mainland City Centre to create a family-friendly fun center for everyone to enjoy!
It's set to open in December, so stay up to date with all JMK5 Holdings renovation projects. Visit their websites to learn more about Jerome Karam and the JMK5 Holdings team.
Also, Jerome has many events throughout the fall and holiday season at Mainland City Centre. Be sure to visit the Mainland City Centre's social media pages to get all the necessary information.